Liturgy Office
England & Wales
The Liturgy Office serves the work of the Department for Christian Life and Worship of the Catholic Bishops' Conference of England and Wales providing resources, information and advice.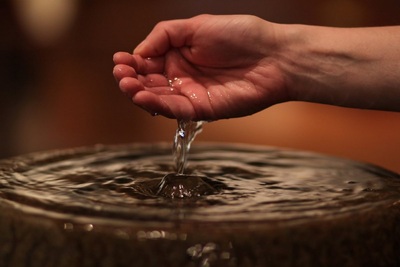 Lent is ordered to preparing for the celebration of Easter, since the Lenten liturgy prepares for the celebration of the Paschal Mystery both catechumens, by the various stages of Christian Initiation, and the faithful, who recall their own Baptism and do penance.
Universal Norms for the Liturgical Year and Calendar, 27
By your gracious gift each year
your faithful await the sacred paschal feasts
with joy of minds made pure,
so that, more eagerly intent on prayer
and on the works of charity,
and participating in the mysteries
by which they have been reborn,
that may be led to the fullness of grace
that you bestow on your sons and daughters.
cf. Roman Missal, Preface I of Lent
November - Praying for the Dead
The Spirituality Committee has prepared a Novena for November to assist people praying for the dead in this month. On each day a different group is prayed for, including those who have lost their lives during the Pandemic.
Coronavirus (COVID-19)
The Guidance of the Catholic Bishops' Conference of England and Wales can be found on its webpages.
Liturgy Office material is gathered on a resources page.
The Spirituality Committee has begun a project to sustain and support people's prayer life based on the Psalms.
The God who Speaks: Year of the Word
Cycle of Prayer — Lent
Candidates for the Sacraments

especially on the Sundays of Lent

The Needy and Hungry of the World

especially on Lent Fast Day (Friday after 1st Sunday of Lent)

Women's World Day of Prayer

(1st Friday in March)

Penitents and Wanderers
The Catholic Bishops' Conference of England and Wales have dedicated 2020 as a year of focus on the Bible and 'The God Who Speaks'.
Confirmation & Marriage
New translations of the Order of Confirmation and the Order of Celebrating Matrimony was published in January 2016 for use from Easter 2016.
Roman Missal
Formation material for and texts from the Roman Missal have been re-incorporated back inothe Liturgy Office website.
Resources
Contact Details
Director Liturgy Office
& Department Assistant Secretary

Department Secretary

Liturgy Office
39 Eccleston Square
London SW1V 1PL
020 7901 4850
020 7901 4821 fax
Department for Christian Life and Worship
The Department for Christian Life and Worship is one of the six Departments of the Catholic Bishops' Conference of England and Wales. It is advised by three Committees:
Liturgy
Patrimony
Spirituality